About Travel Zentric
If you want to travel more, center you life around what you love or just look for inspiration, you have come to the right place. Travel Zentric stands for individual and conscious travel, about living and traveling in a way that makes you happy and let's you appreciate the moment. Get to know new people, a place or country by slowing down and taking it all in.
You can find posts here about my past travels, suggestions for travel itineraries, tips for transportation, costs and how to plan your trip. Or simply just to get inspired to choose a destination for your next trip.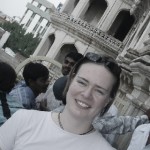 My name is Susanne (Sue for short),
I live in Cologne, Germany and I love to travel.
I haven been traveling all my life and I use every chance to see new places. During school I participated in all exchange programs I could. So I went three times to France and to Poland. Each time brought new experiences, friends and the wish to experience also other cultures and travel more.
After having finished school I worked as an Au-Pair in the Midwest and got the possibility to not just experience the American culture, to meet a lot of new people, but also to see so many great places which at the latest gave me the travel bug! What to do aftewards? I opted for International Business and a university exchange year in Ottawa, Canada. A lot of other leisure and business trips followed which took me to six continents so far.
On Travel Zentric I write about my travels and experiences, give advice on routes, accommodation and trip planning. And I hope I can inspire you to travel more, too and zen your life!