My Travel Bucket List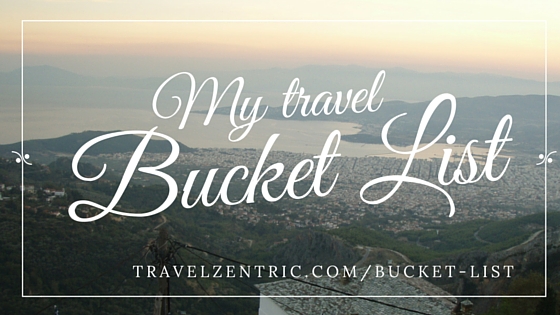 This is my travel bucket list. I captured travel destinations, cultural attractions, activities or special occasions I would like to see and experience around the world.
Let's see how it works out with making this list a reality step by step. So happy that I can cross the visit to Rio and the Copacabana already off the list (and add another wish to see it again. Damn ;-). But that's travel life I guess. I hope you find a place or two you have not thought about before and add it to your list. Or start you own bucket list if you don't have one yet…
But without further ado here is my travel bucket list:
Visit at least 3 countries in South America (e.g. Peru, Ecuador, Colombia, Brasil, Bolivia, Argentina, Uruguay) (1st Brasil)
Definitely see Machu Picchu for myself
Being able to have an everyday conversation in Spanish
Spend at least 6 months in a row traveling
Watch a tennis match live at the Australian Open
Work for a social cause
Work outside of Europe
Go sailing in the Maledives
Make a biking tour along a river
Visit more of Central America (e.g. Guatemala, Nicaragua, Costa Rica or Panama)
Make another hiking tour in New Zealand (any recommendations?)
Drive along the sea in a convertible
Visit Perth and Western Australia
Make a "Lord of the Rings" tour in New Zealand
Visit more regions in Mexico (Oaxaca, Mexico City, Chiapas, Guadalajara, etc.)
Revisit Ottawa 
Revisit the Canadian Rockies
Make a roadtrip in Ireland
Visit Edinburgh, Scotland
Go to South Africa (Garden Route, Krüger NP)
Experience family life in an Arabic country
Go to the Seychelles
Go to Africa (e.g. Uganda, Namibia, Ruanda, Burundi, Kenia, Tansania, Sansibar, Benin)
Go on safari and see the big 5
Spend a week at a lake in Scandinavia
Visit Iran
Write a book
Do island hopping in the Caribbean
Swim with dolphins
Visit the South Seas
Go whale watching again (and this time hopefully see whales!)
Visit South India
Revisit Hyderabad
Attend an Indian wedding
Be in India for Diwali
See Tokio and Japan at least once
Visit Cuba
Visit Costa Rica
Learn Spanish in a Spanish speaking country
Visit again and again: New York, Paris, Rio, San Francisco and Sydney
See Hawaii Magnum style ;)
Visit the Everglades and the Florida Keys
See Rio de Janeiro & the Copacabana
Visit a tea plantation in Sri Lanka
Make a roadtrip to the south-west US national parks (Arches, Zion, Bryce, Monument Valley)
Go sailing in Greece or Croatia
Visit Petra in Jordania
Visit Kep & Koh Rong, Cambodia (and Angkor Wat of course)
Visit Riga, Tallinn & Vilnius
Visit Myanmar
Visit the Woodstock festival, Poland
Visit Palau
Hike a pilgrim's route to Santiago de Compostela
Go to the Gili Islands, Lombok and see more of Indonesia
Spend some time on the Fijis
Visit Antarctica
Go to Quito and Cotopaxi NP in Ecuador
Visit Kotor in Montenegro
Visit Uruguay with Montevideo
Visit the Philippines
Visit the Douro Valley in Portugal
Walk along the Chinese Wall
Visit Beijing and/or Shanghai
Visit Naples and Pompeji, Italy
Make a trip in the south of Italy or to Sardinia
Visit Laos
Go hiking in Nepal
Visit Kyoto, Japan
Go hiking in Tadjikistan, Uzbekistan or Kyrgyzstan
Go to a full-moon party
Visit the Iguazu Falls in Brazil/Argentina
Spend some time in the Amazon region
Visit the Galapagos Islands and/or the Easter Island
Hike Mt. Kilimanjaro, Tansania
Play tennis on the world's highest tennis court
Raft through the Grand Canyon
Canoe through the Spreewald (a forest) in Germany
Visit Weimar, Germany
Make another cruise in the Mediterranean Sea
Visit St. Petersburg, Russia and Helsinki, Finland
Stay in an over-water bungalow
Ride in the Trans-Siberian railway
See the pyramids, Egypt
Visit Dubrovnik, Croatia
Have a look around Silicon Valley
Visit the Elbe Sandstone Mountains and the Saxon Switzerland National Park
Ride in a gondola in Venice
Go ice skating in New York
Make a trip to the desert and sleep in a tent
Go to the Olympics or a European or World Cup (soccer)
Visit the Anne Frank house in Amsterdam, the Netherlands
Visit the Danube delta, Transylvania castles and Bucharest, Romania
Go to Budapest, Hungary
Visit Iceland
What do you think of my travel bucket list? Which place is missing that is a must-see or a must-do activity? What have you seen that I should add?