From 2nd to 4th of May 2016 the tenth republica took place in Berlin. It was my first republica with lots of impressions, sessions and learnings. And lots of fun. After three days of massive input, talks and parties, I want to take some time to look back on #rpTEN and describe my personal experience and highlights.
About republica

My first republica! I had heard a lot of positive voices, but knew nearly nothing about the conference which took place the first time in Germany in 2006. Republica today is a conference about the digital society, social media, blogging and diverse other topics concerning the internet, politics, security and technological innovation. Originally it was started by bloggers and the grass-roots movement has grown to an astounding 8.000 visitors conference.
prepublica
Since I usually don't like waiting I was totally happy that I had heard from a fellow blogger that on the Sunday before the start of the conference registration is already possible. So I gladly took the chance to get my wristband and get myself aquainted with the huge republica area of the Station close to the Gleisdreieck in Berlin, Kreuzberg.
rpTEN Day 1
The Opening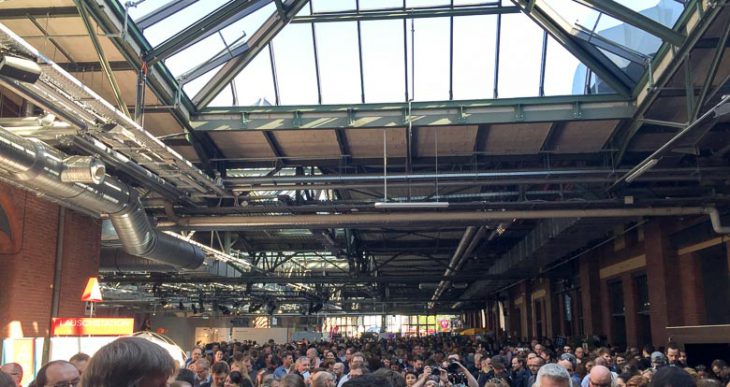 The next day I did have to wait as the start at 10am on the first day was postponed a little. But finally the doors to stage 1 opened and the founders of the republica opened the conference. The first news: there will be an international republica, which will take place in Ireland in October. During the course of the conference I learned that a lot of the sessions are held in English already and cooperating more within other EU countries is the logical next step. Excited to see what shape the Irish republica will take!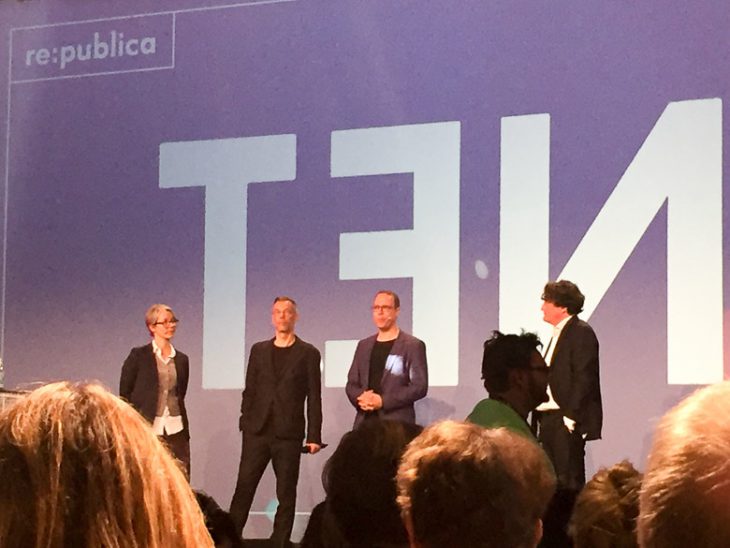 Berlin and Tel Aviv
After the keynote I made my way to a panel discussion about Berlin and Tel Aviv. The introduction was held by Michael Müller (mayor of Berlin). In the panel people from Berlin and Tel Aviv participated. And although it was an interesting discussion which gave insights into the amounts of economic investment and so on and how start-ups are supported in both locations, I found it a bit too competitive.
I would like to see more focus on co-operation and exchange in the future. It shouldn't be an either/or question, but rather an exchange of knowledge and how we can learn from each other. But I stumble again and again about recommendations to go to Israel and Palestine during the last weeks and should definitely add them to my travel bucket list. But I am getting off topic. Back to republica.
Privacy Rights Panel with Prof. Floridi and Edward Snowden
Fortunately, the next session was in the same room and I was lucky to have a seat in a now totally overcrowded room. Everybody wanted to see Edward Snowden. And after moderator Jo Schück (ZDF) and Luciano Floridi (University of Oxford) had talked for a while about the ethics professor's view of protecting privacy, Snowden appeared on the big screen via video conference from Russia. I must say I was quite taken by his eloquence. What stuck was his quote about privacy rights: "Saying that you don't care about privacy because you got nothing to hide is like saying I don't care about free speech because I got nothing to say."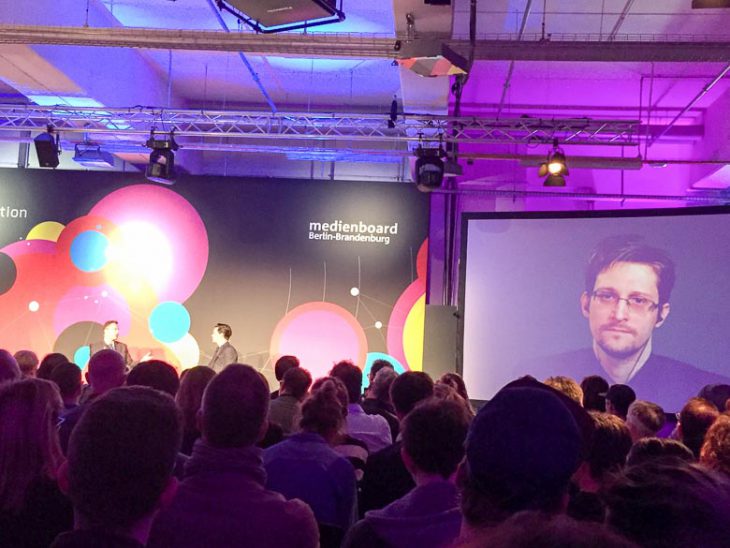 Quotes like this and discussions in other sessions were thought provoking and made me think about how I can personally contribute to the enforcement of those rights, when the power of some governments and also companies seem to be somewhat overwhelming. But I suppose talking or writing about it is one way. Taking an active standpoint whenever possible another.
Sascha Lobo – Trotzdem!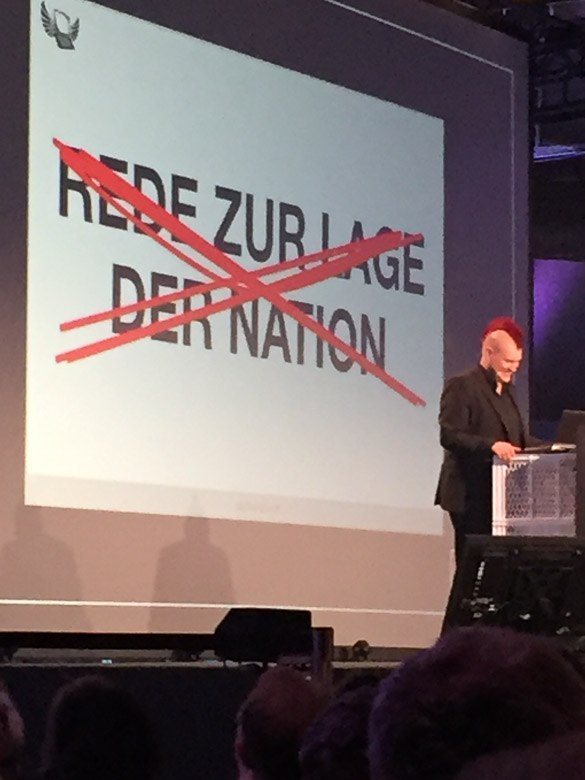 That lets me jump to the last session on day one, "The Age of Trotzdem" by Sascha Lobo. He addressed effectively and in an entertaining way the same question. How do we go on "regardless" (trotzdem) of the challenges that we face today (extremists that use the net for propaganda; NSU affair; unsolved questions in the post-Snowden area, etc.).
And the answer here can be getting active, starting a business and making a difference in society and in an economic way.
And by learning Snapchat of course ;-)

rpTEN Day 2
Snapchat
Snapchat. A word often heard at rpTEN. That social media tool I had tried out last year and tossed again. You can collect photos and short videos and post them to your friends or publicly, but they get erased after 24 hours. I didn't understand the use case. Or rather did not see the value of posting something that gets erased again. Like so many other adults I suppose. But I decided to give it another try and attended the snapchat for beginners session and did not regret it.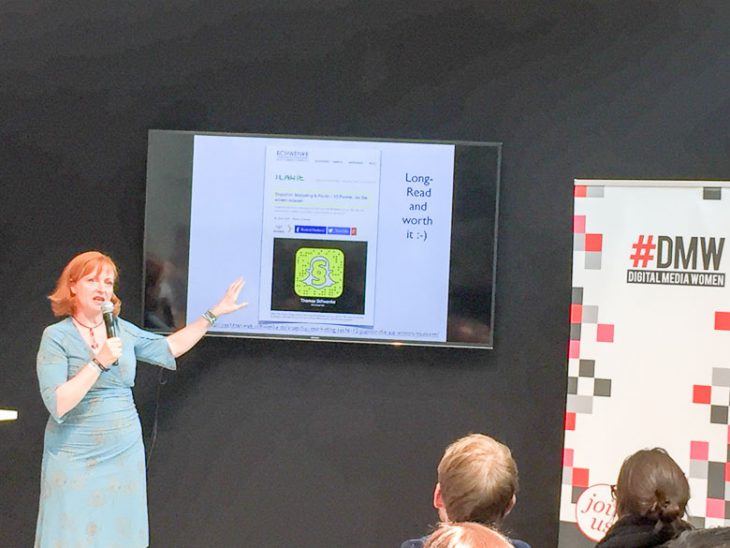 Cargo Cults – another Anti-Pattern
But I am getting ahead of myself. Day two started with Gunter Dueck. My personal re:publica highlight. Dueck talked about cargo cults and how they show in our society and in companies. E.g. kick-offs that are expected to produce great results without laying the needed foundation; cups that title "innovate" in the expectation that the miracle innovation then occurs; or training people in agile methodologies in the expectation that everything changes to the better now.
Especially the latter hurt a bit as agile methodologies and their possibilities mean a lot to me and can be very effective. But I cannot negate the corporate reality either. Gunter Dueck manages so well to point out what is often thought, but generally not so much spoken about. And one more time I asked myself why it is so hard to improve the status quo. But words like this encourage to just make it better. Thank you, @wilddueck!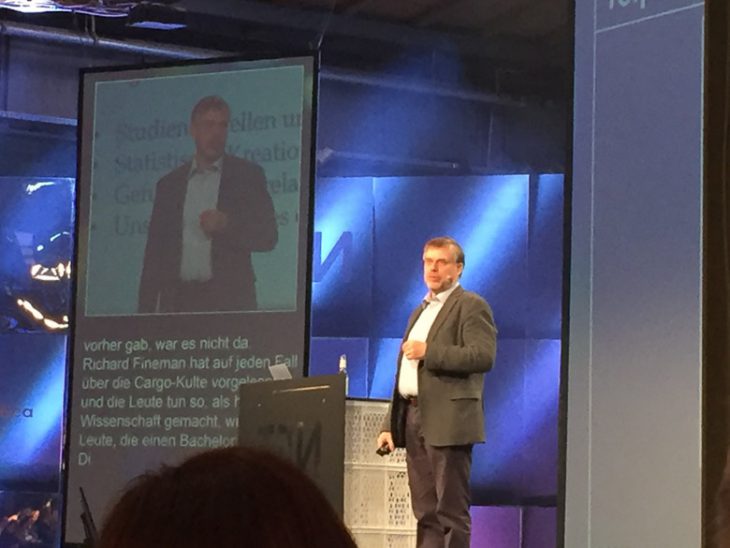 Instagram in Action – sharing Smiles
What else happened on day 2? Right, there was the instagram walk. We collectively shared smiles and heard hands on advice from Lisa Brandstötter from igersaustria. Have a look at #rptenwalk for the smiling results.
Ideation with a Practical Touch
Another really interesting discussion took place in the networking area where Professor Mark Smith (Swedish Royal Institute of Technology) had invited for the Ideathon for Digitalization in Social Innovation. We were discussing barriers for people of diverse groups to mingle and interact with each other. What are the barriers and even more important, how can we overcome them? This brainstorming felt good as it was very interactive and Mark said that he can use the results in his daily work. A very encouraging event on a large conference like this with interesting participants from around the world. More of this please, @re:publica!
Internet of Sings – Karaoke Night
A sure highlight was the karaoke on stage 3 that night. The "Internet of Sings" party was a full success. Loved it.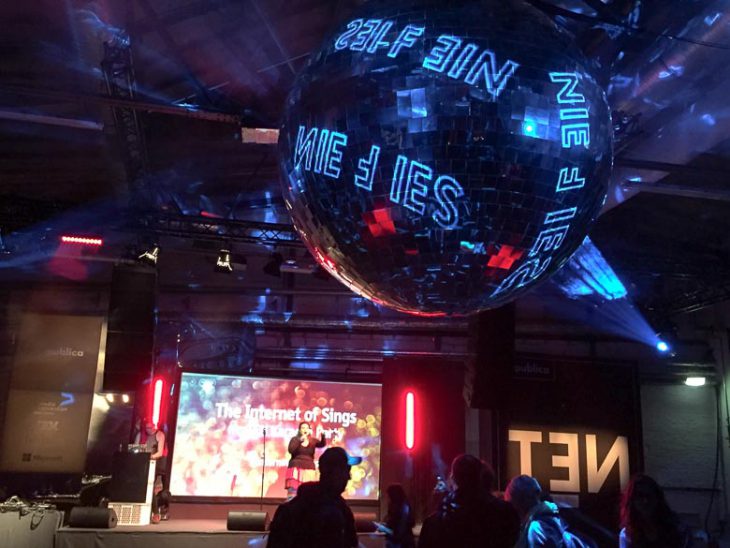 rpTEN Day 3
Make it simple – Telefónica's Story
The third day started out with a talk about work 4.0 and how to "make it simple". Since I am deeply involved in digitalization projects, transformation to agile organizations and how to create sustainable change, most concepts were not really new to me. But it was very interesting to hear how Télefónica went about it and what their way to a successful merger was. In the end making it simple is hard work. And a one hour talk can only scratch the surface of such an undertaking. Anyway, Telefónica seems to have made big efforts to use the merger to set up new structures and combine the necessary with the right things in order to create a different working culture and simpler processes.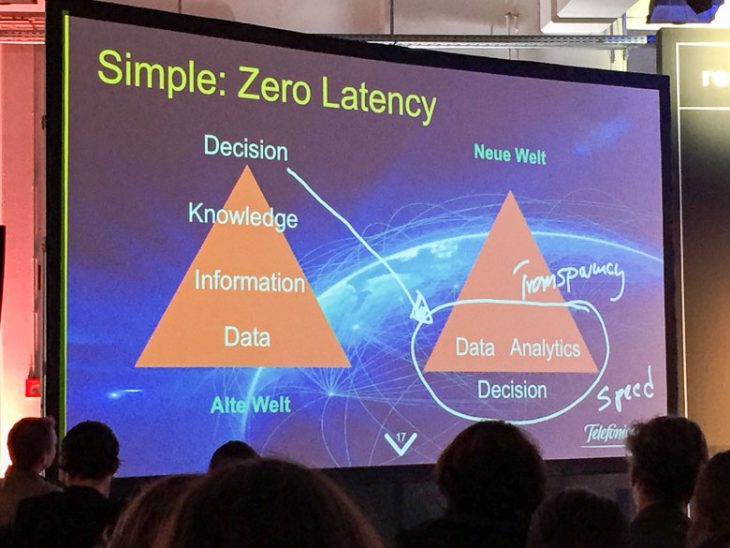 No Blogger Meeting and some Lightning Talks
Next I had some timetable confusion and missed the travel blogger lightning talk and also the meet-up. Nothing to be done about that. After lunch I heard a lightning talk about non-linear storytelling and next how to do conflict resolution in community management.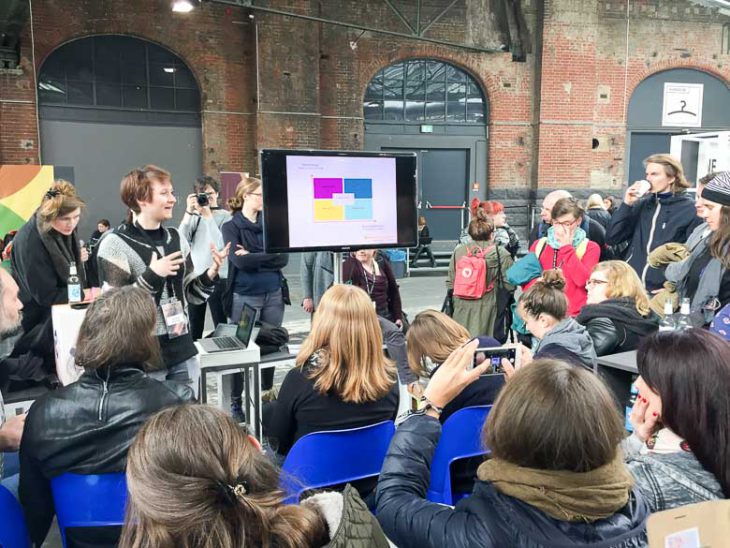 The last day ended rather fast after a session about neo-tribes. This talk was interesting for me as it shows lots of parallels with the digital nomad movement which I follow closely. If you are interested in working location independent or starting your own business, have a look at the DNX.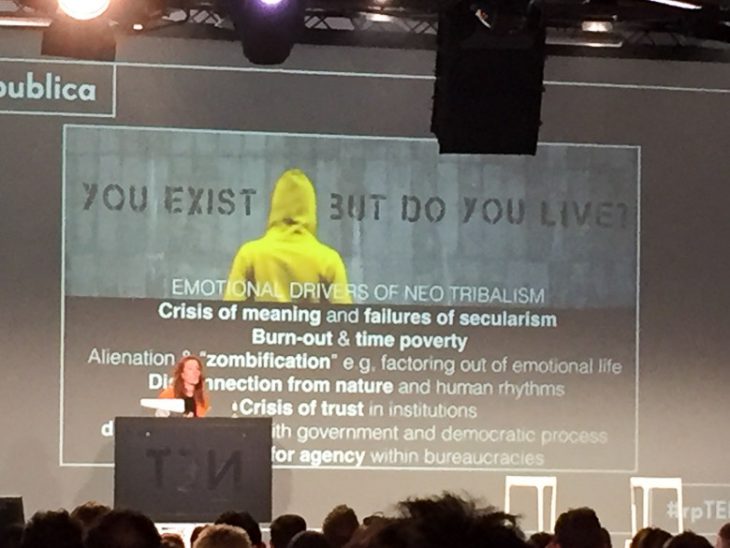 Closing, Singing and Résumé
And then the closing event was there. "Bohemian rhapsody" by Queen was sung or should I say performed with everybody joining in. A "cheesestorm" was revealed of which I had noticed nothing. Apparently some raclette booth had to go because of complaints inside the main hall and the media had picked up on it. So in the end I had learned something about storytelling regardless. A cheesy story sometimes is better than no story at all (sorry, couldn't help that).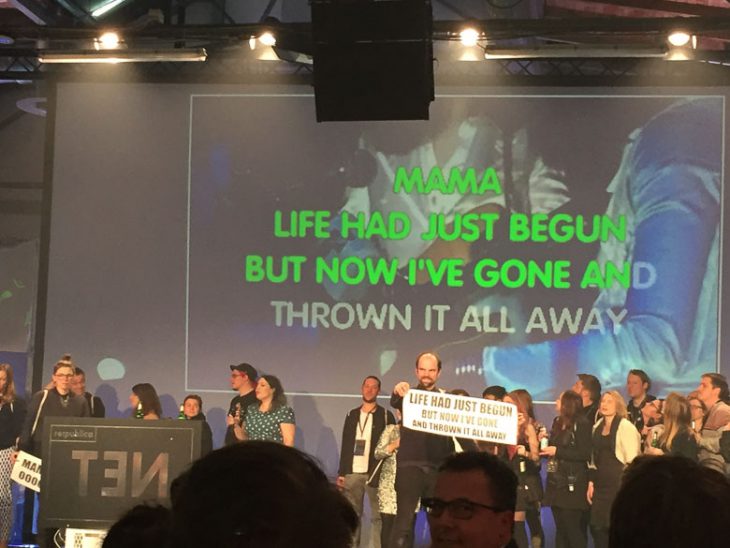 All in all I am very happy with my first republica which was colorful, diverse, fun and informative. I managed to see and do everything I had planned: see Gunter Dueck's talk, get some more hands on experience of social media, meet new people and have fun.
The name republica goes back to the latin words "res publica" (the "public thing")

Some re:publica sessions have been recorded and can be viewed on YouTube or on the republica website

Tickets for the re:publica in Dublin, Ireland are already available and can be combined with the Digital Biscuit (film and techology festival)

Must see/do on the re:publica: opening and closing sessions as well as the karaoke party

Use the re:publica app, but also have a look at the daily paper handouts of the program. Sometimes the program changes on short notice.

Use the networking area. Since it is a very big conference, it helps to get some personal exchange and connection with other visitors and speakers.
How was your republica? And what else do you associate with #rpTEN?