Experiences from hiking Volcano Acatenango
If you are in Guatemala and are looking for activity options, one activity that will be suggested fast is hiking Volcano Acatenango. It is not an easy hike, but it is very much worth it! Everybody I met who did it said so and I completely agree. In this post I summed up the questions I had before going, the experiences I made and what I heard from fellow travelers.
If you are not ready to push yourself up a little bit, this hike might not be for you. Maybe you want to consider hiking Volcano Pacaya instead. That one is much easier and can be done with kids as well. Both hikes are great, but the hike up Acatenango is definitely special and unforgettable!
Hiking Volcano Acatenango
Duration of the Hike
Alltogether we were away from the starting point at the base of the volcano for about 24 hours. It takes about an hour from Antigua to get to the base. We then picked up food, sleeping bags and got our equipment (tent, matress and walking sticks) at a house close to where the track starts up the mountain.
It took us about 5 hours to go up to the basecamp. From there it is another 1.5 hours of steep uphill climbing at 4am. I opted out of that one as it is really strenuous and the sky was clear so that we had a great view from the basecamp as well. Half of our group went up and the other half stayed at the "campground".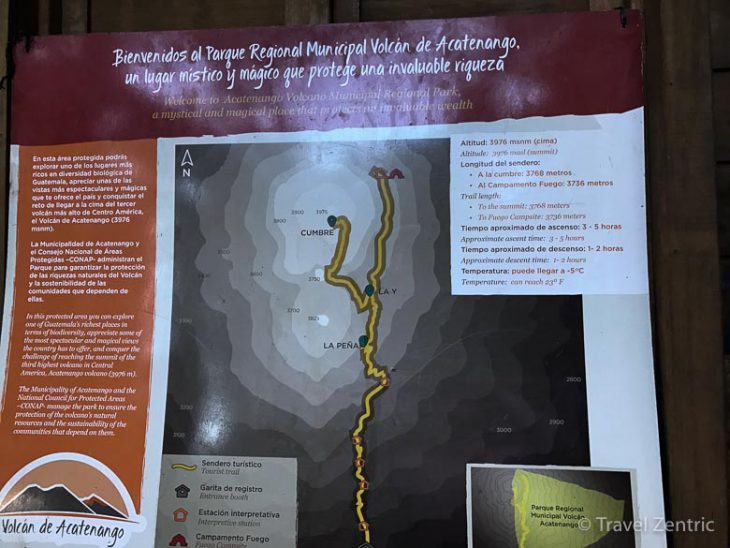 The only difference up there seems to be that you are on the top of the volcano (yeah!) and that you could see the lake Atitlan from there. But noone actually walked to the other side at the top as it was freezing cold up there. Next time I would again decide depending on the weather conditions, although I think I would have tried if everybody from the group would have decided to go up.
It must be great up there especially when there are clouds and you see the sun going up above them. Please send me some pics if you made it all the way up. I am happy to add them here.
The way down takes about 30 min – 1 hour to the basecamp and another 3 hours all the way to the starting point.
The Start of the Hike up Acatenango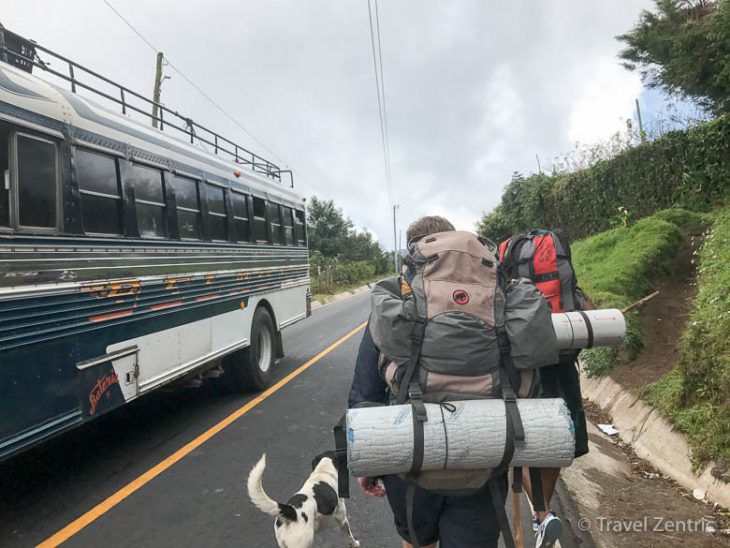 The first 2-3 hours were the hardest. It was pretty steep uphill climbing. Boy, I guess everybody thinks here "what did I think when signing up for this!?". But do struggle through this part and take it slowly. Take your time. Your body needs to adjust to the exercise.
"The Jungle" Section when hiking Volcano Acatenango
The nature changes a bit on the way up. On the first part you see a lot of fields with flowers followed by an area with deep green trees which I called "the jungle". You walk quite a bit in the shade and after a while the treck becomes easier and not as steep anymore.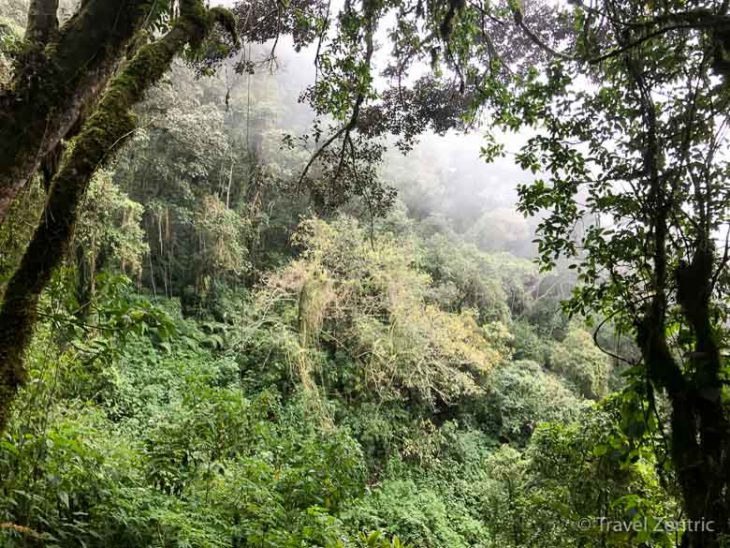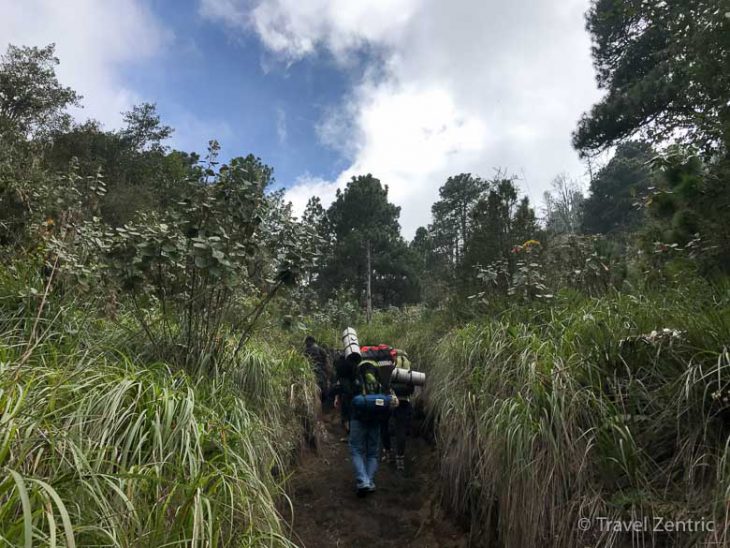 Above the Clouds
The hike is still tough in this part as the air gets thinner. But the adrenaline also kicks in with a landscape like this. I began to realize here that the struggle is definitely worth it.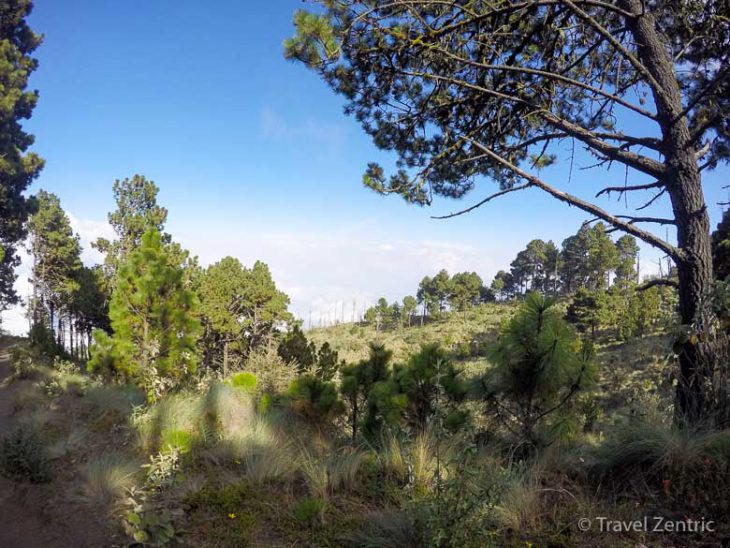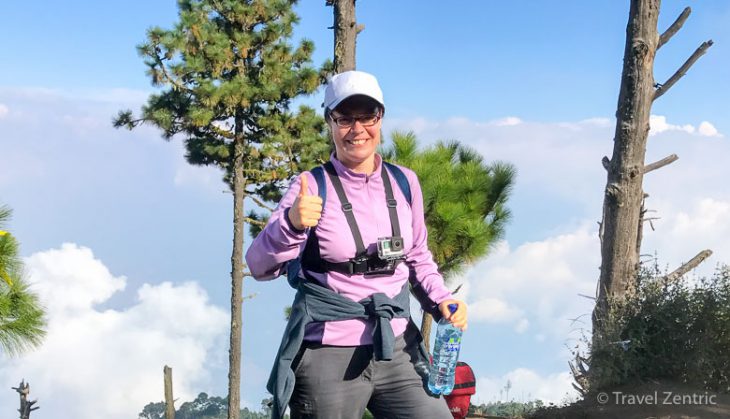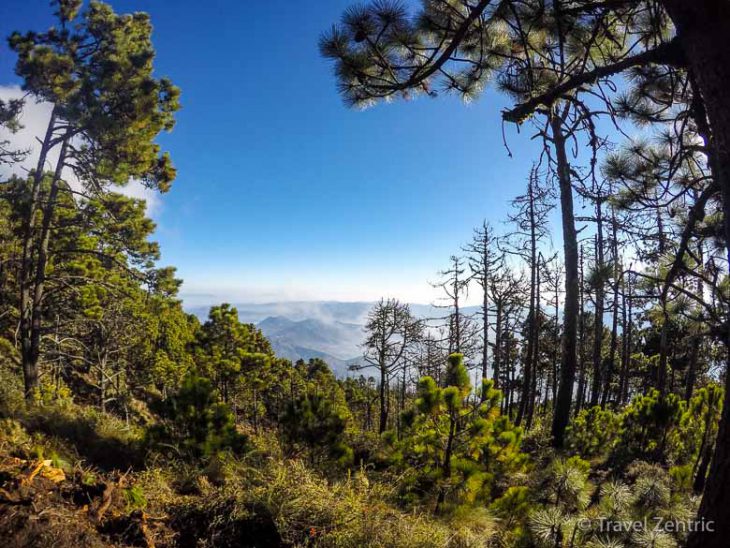 Arrival at the Basecamp
The last half an hour I really had to catch my breath a lot which let me fall behind the group a bit. But I didn't mind as that give me the chance to take some pictures and film as well. And there was no need to rush as we arrived with plenty of time of the day left at the campground. I think it was around 4-5pm.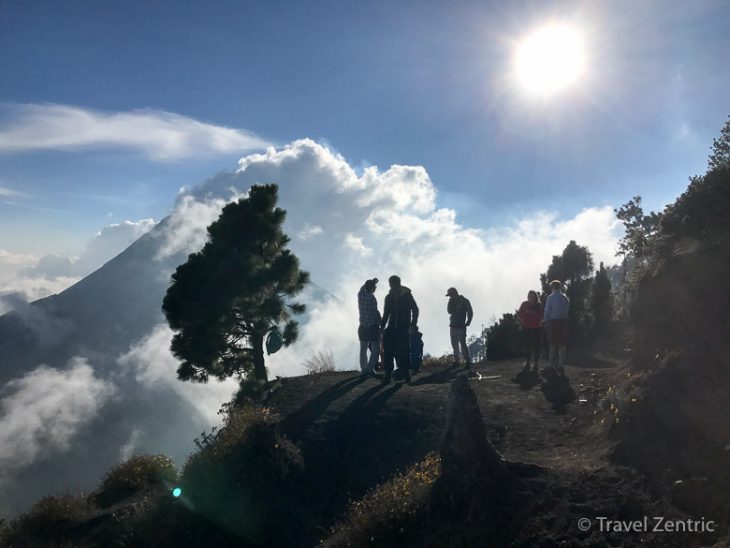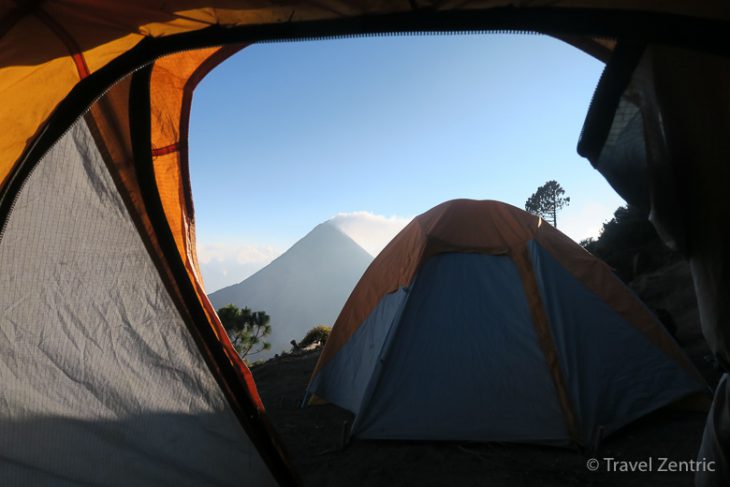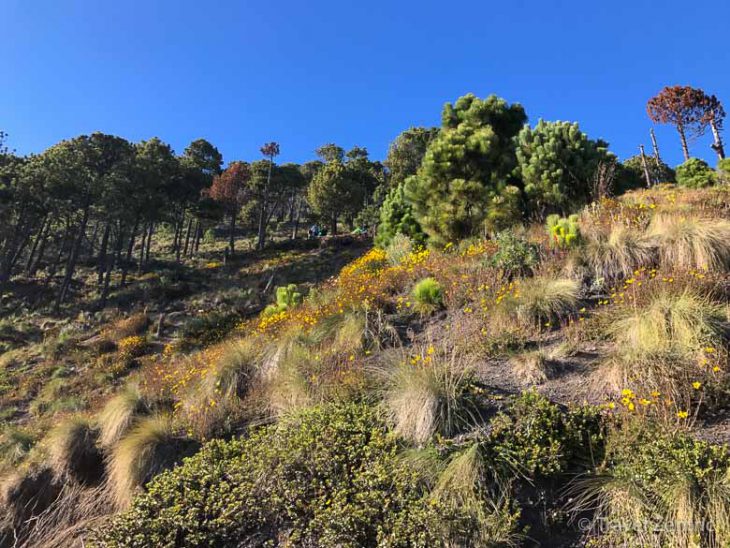 The Night up on Acatenango
We had an early dinner and enjoyed the view. Unfortunately it was a bit too cloudy to see much of the sunset. But we had the night and sunrise ahead of us. So we enjoyed the warm campfire and a hot noodle soop. Nevertheless, it was starting to get cold!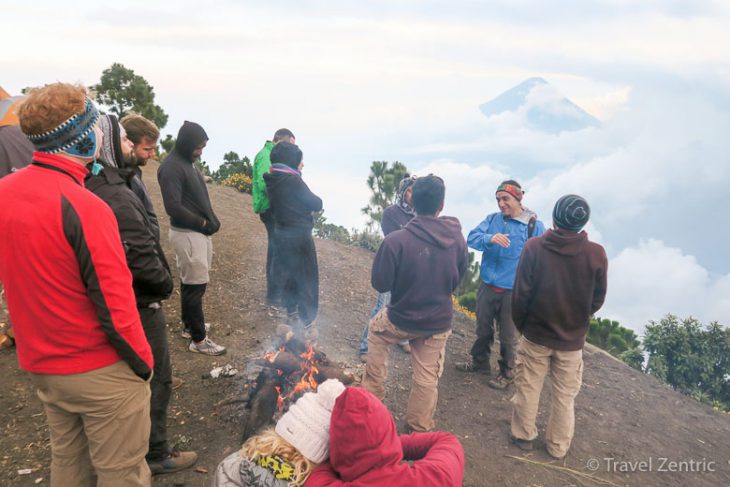 The others shared some rum, which I avoided up there since I hadn't decided if I will go up to the top the next morning (I can highly recommed the local rum Botran 12 years though, which I had bought at arrival in Guatemala). Anyways, enjoy a drink up there if you don't feel any altitude sickness.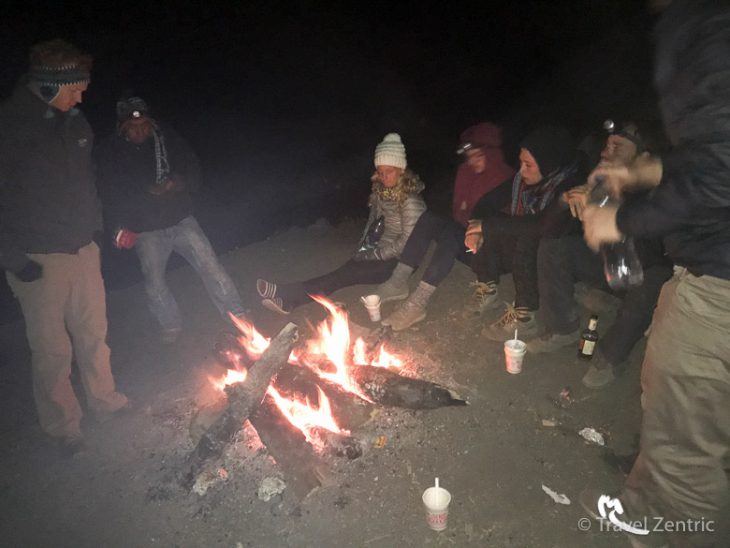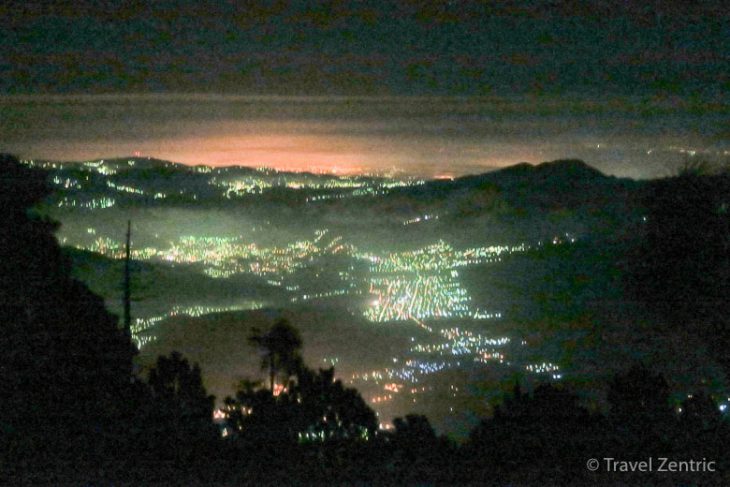 Since we planned to start hiking up at 4am to the top, we went to "bed" early. It was a short night. Around midnight it really started to get cold and I shifted back and forth in my thin sleeping bag to somehow get/stay warm. I managed to sleep for a while until I heard the volcano Fuego erupting (around 3am).
I didn't realize straight away as it sounds a bit like a loud airplane, but my tentpal from England was sure: it's the volcano! So we had a peek outside and saw the orange flame bright on top of the volcano. What a sight! Fuego erupted a couple of more times that night and the next day.
The Sunrise
At 3:30am I gave up sleeping and started to get up. The fire was on again and it was great to warm up a bit. At 4am half of the group left for the hard hike to the top and they returned around 7am tired, but happy they did it.
We spent at least an hour still in the dark in the early morning just looking at the stars and enjoying the view of the two volcanos and the valleys in front of us. There were lots of shooting stars, the stars were bright and the sky was clear. It promised to be a great sunrise.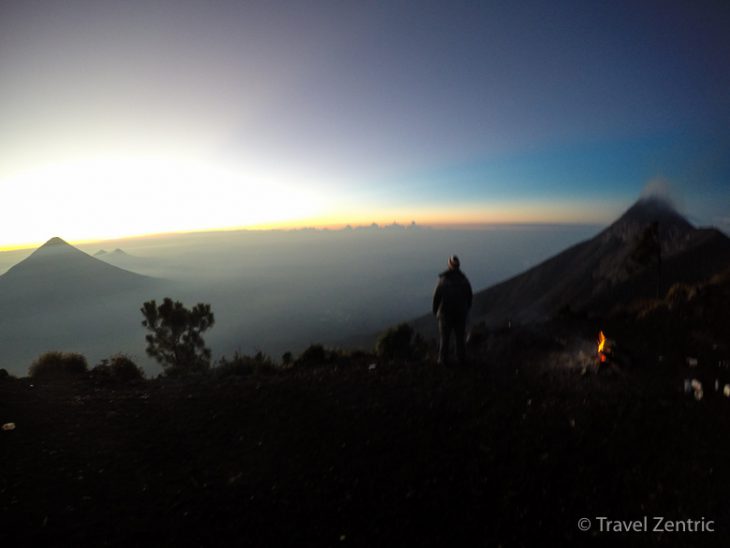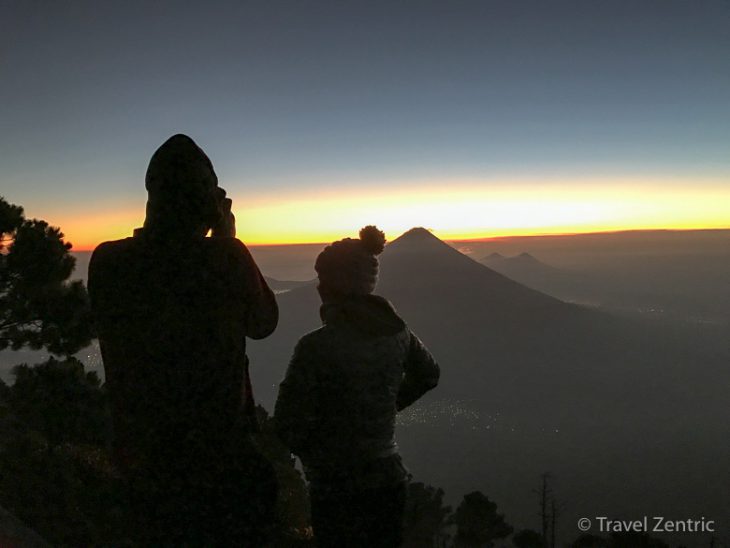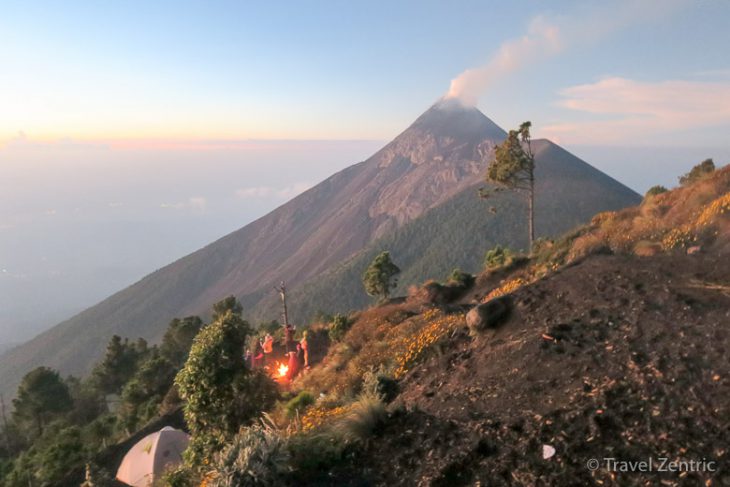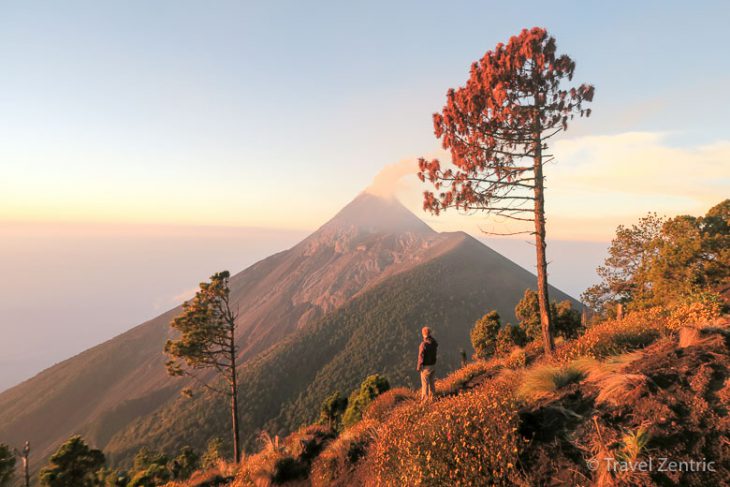 Hiking back down
After breakfast with some hot chocolate and packing up everything, we left the campground at 7:30am.  The first part of the hike down now felt really easy as it went down most of the time and wasn't too steep yet. Also, the weather was great and it was warming up fast.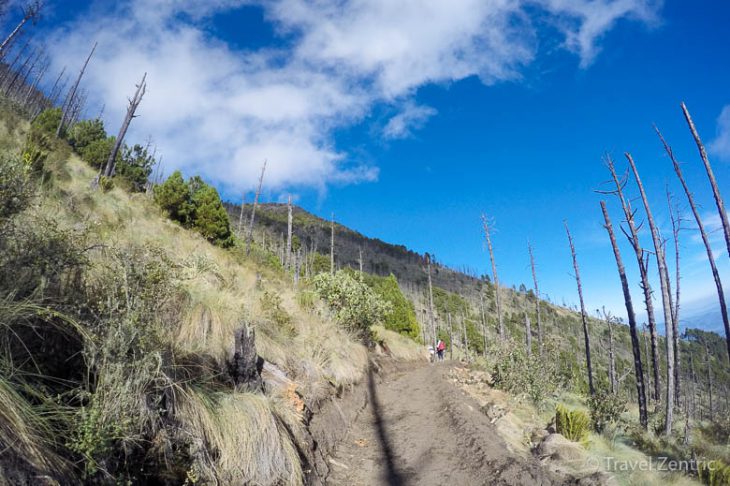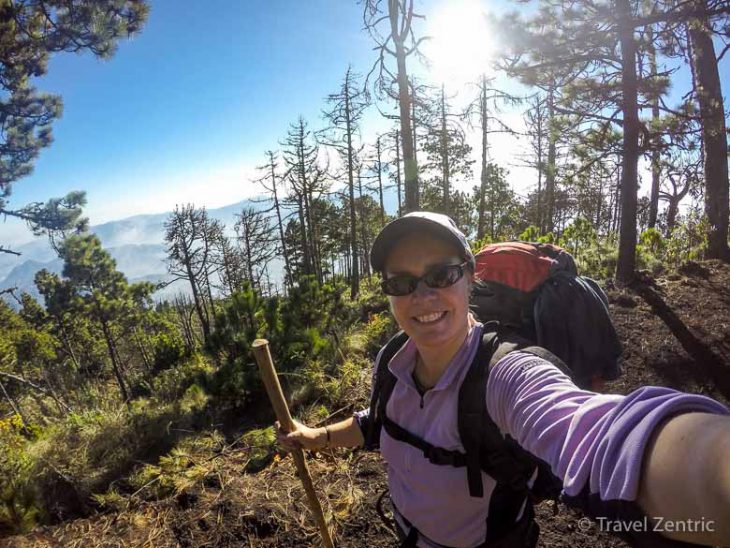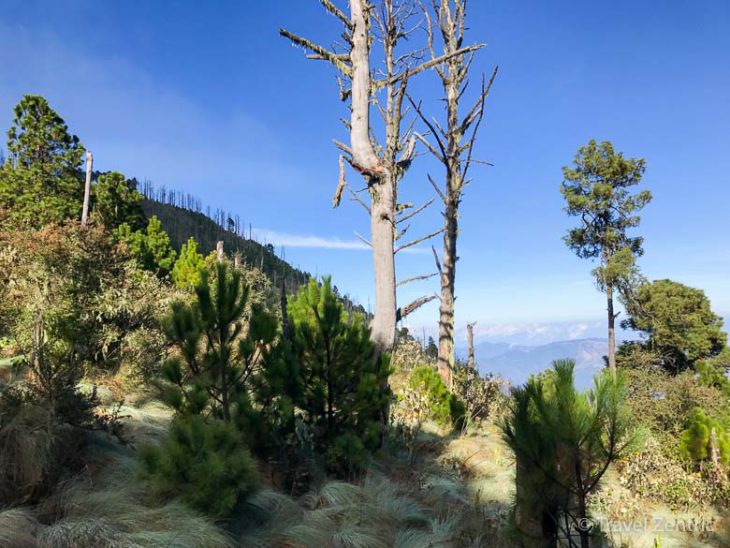 Hiking down you really have to watch your steps. But for the first 1-2 hours it is considerably easy.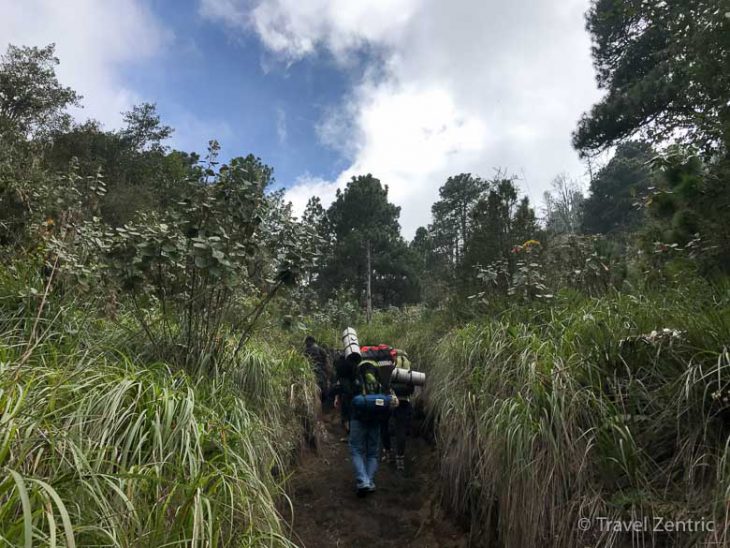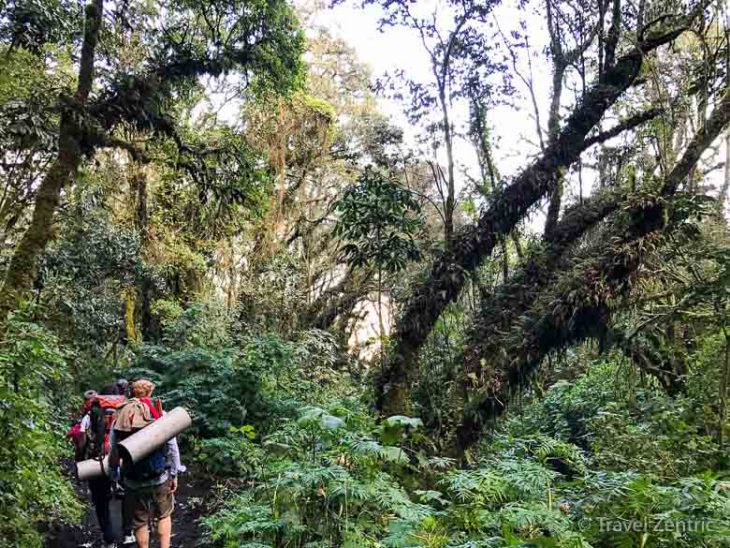 The last 30-40 minutes the treck was really steep and it got to my knees. This time I was carrying the big backpack, but which worked astonishingly fine. I guess we all wondered how we ever got up here. So we were happy when we finally reached the street again. Tired, but happy.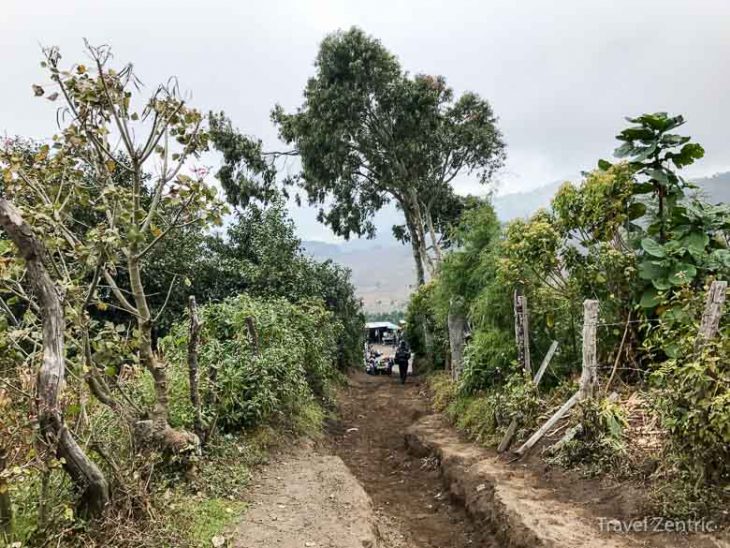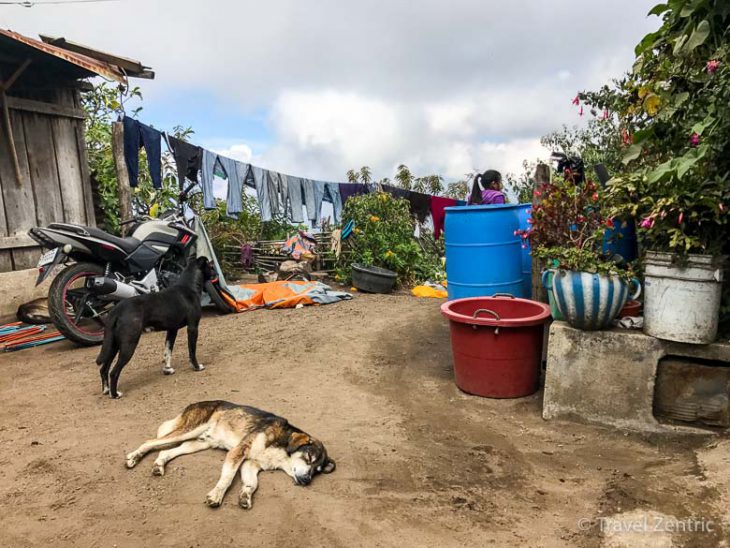 What should I bring when hiking Volcano Acatenango?
From my experiences and what is usually good for hikes I have made a list of things that you might wanna bring. I got some of the stuff in Antigua at the local market or in the supermarket. I have added the prices to the food/equipment I bought so that you have a reference point:
water (4l)

additional food, e.g.:

cereal/chocolate bars

trail mix (peanuts, macademia nuts,…)

bananas/oranges/other fruit

one or two sandwiches

coffee/tea or drinking yogurts for breakfast

a rain/wind jacket

hiking boots

warm clothes (it can get below freezing point)

cotton trousers (20Q at the market) or long underwear

a warm cap (25Q at the market)

gloves (10Q at the supermarket)

a torch (most useful are headlamps) (20Q at the market)
You can rent a wooden walking stick (5Q) and a backpack (40Q) when starting the tour. The backpack you should clarify when booking the tour as otherwise there might be none available. Tents, mattresses and sleeping bags are usually included in the tour price.
The walking stick is really highly recommended as you go uphill a lot. Also for the way down it gives you a bit more stability.
Volcano Acatenango Tour Provider
The price for the overnight Acatenango tour varies highly. I heard prices from Q75 (about $9) up to over US$100! During my time in Antigua I researched a bit. A lot of times people book at different locations (at hostels, travel agencies, etc.), but end up on the same tour. For me it was important that the tour is reasonably well organized with an experienced guide etc. But there is really no way of checking this upfront.
I ended up choosing GT Adventure who do their own tours and add people from other locations to fill up their tours. In general and overall, I am happy with the experience. There were small things that could be improved, such as: holes in the mattress, broken latches of the backpack.
One thing that bothered me more was that the guide insisted a couple of times that the slower ones (me!) should keep up with the group. This was both unnecessary and pointless. If I had followed that I would not have made it up and we still arrived early at the basecamp. So my biggest advice is: don't let anybody rush you!
I knew after hiking Pacaya that I would only make it up if somebody else carries my backpack (with the camping gear, water and food) and if I don't walk too fast on the first part up. With the help of the local I only carried my camera equipment, some water and food. This gave me the chance to enjoy the tour more and document it on the way.
I totally understand that the guides try to keep the group together, but rushing up the hill makes no sense at all; especially not when doing an altitude change of at least 1200 metres in a day. But I have no comparison so cannot advise another company. I guess in general it was one of the better ones.
What I also want to mention is that some hostels that sold the tour didn't really explain to everyone who booked the tour what kind of tour it is (very difficult at times and cold up there) and what they should bring. That's why I decided to make this article more detailed. Some fellow trackers only had light clothes with them and sneekers, which really is not the right equipment for a tour like that. It's doable, but really not advisable.
What do I need to know about Altitude and Altitude Sickness?
Usually it is advised to climb 300-500 metres in altitude per day. From where you start up Acatenango to the base camp it is 1200 metres in altitude. Another 300-400 metres have to be made from the base camp to the top.
If you have had altitude sickness before
If you know that you get altitude sickness, you should think about what is best for you. You can use an approach used by mountain climbers which is called "climb-high, sleep-low". In this case you would climb the volcano in one day and sleep down at 2400 metres or below. If this is an option from your physical fitness level point of view, this might be the best way.
If you prefer to split the altitude gain and have more time up on the volcano, rather do the two day hike. But in this case when you sleep at 3600 metres at the base camp, the probability of getting altitude sickness is higher (for someone who suffers from it).
If in doubt, contact a doctor before and be sure to go (further) down if you experience heavy symptoms. Be sure to drink lots of water (everyone) and refrain from alcohol as it worsens altitude sickness.
If you have not been over 2500 metres and don't know if you might get altitude sickness
Don't stress out over it! The only way to find out is to go up. If you get altitude sickness there, the only good option is to go further down again if you experience strong symptoms. If the symptoms are light, you might be ok with not going further up once the symptoms start. Read the articles mentioned below for more information.
You have been over 2500 metres and have not had altitude sickness
Your probability of getting altitude sickness is lowest, although it can still happen as the conditions/ altitude change.
For everyone
You find more information about what altitude sickness is, the symptoms, etc. here. And here I found another good article. In general, it should not be a big deal on this hike, but you should be prepared in case you get it.
                           Summed up you should at least know/follow these points:
When hiking Acatenango you go from 2400 metres to 3976 metres within a day or two

Drink lots of water regularly (take 4 liters for a 2-day hike)

Ascend slowly and listen to the signs of your body

Don't drink alcohol if you are prone to altitude sickness (the day before or during the hike)

If you get heavy symptoms of altitude sickness, you should descend to the last altitude where you felt fine. The symptoms should then go back within an hour or so.

Bring warm clothes

Prices for the tour vary, although the tour and quality stays the same (some paid via their hostel 75Q, most paid around 150Q); I booked at GT for 150Q as a special price. Their normal rate is 350Q.

You can hire a local to carry up your backpack to the basecamp (200Q (one way)).

Check the weather on top of the volcano upfront (enter "weather volcan de acatenango" in google). In my case it was -3° C / 26 ° F at night!
I wish you a great hike and hope this article helped to be prepared! Here is a great article from MyWildEarth about the positive effects of hiking for your brain and body.
If you have done the hike up Acatenango, how was your experience?