Is it worth to go on a day tour to Isla Cozumel or for several days? To this question I can give you a short answer: yes!
But probably you are wondering what things to do in Cozumel and how to get there or around the island. In this post I will shed some light on this along with some experiences I had on the island.
Isla Cozumel is especially popular amongst divers and snorkelers. Cruise ships stop here and the island is also known as a favorite spot for honeymooners. The attractiveness of Cozumel for an excursion from Playa del Carmen, Cancun or a stopping cruise ship is not just due to the fabulous Caribbean beaches of  Yucatans east coast, but also due to the second largest riff of the world that spans the coast. We were there for a day, but you can easily spend more time here.
Getting to and around Isla Cozumel
The island spans 45km in length and 16km in width (27 miles by 9 miles) and is compared to some other Yucatan islands fairly big.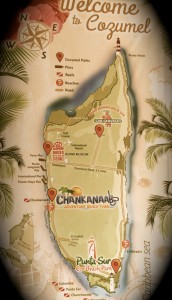 If you want to see several spots on the island, I would recommend to rent a scooter or car to be more independent and to cut down the cost for a taxi. A taxi is only a good alternative if you stay within the town of San Miguel or go to a location nearby.
That is what I learned from a Jamaican-Mexican seller next to the Playa del Carmen ferry station and was not sure if he just wanted to sell something or if it is actually not so easy to get around the island (I was not really prepared I must admit). I hadn't brought my driver's license from the hotel, so was unsure what to do.
"But you have a driver's license? No Problem. We are in Mexico!"
Well, OK, then. We wanted to see the island. So what the heck…and after a little haggling the price seemed good enough as well.
So we paid him and hoped that we would indeed get a car on the other side of the water. We lined up at the ferry pier in Playa del Carmen with all the other tourists and locals for the ferry and it was certainly one of the most beautiful ferry waiting spots: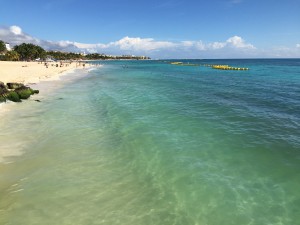 The ferry ride to Cozumel takes approx. 45 minutes.  The rental station CP Rentals is just two or three blocks straight ahead from the ferry pier and since we had already booked, we got our car pretty fast. It was an old, run down (but pretty!) one. For the day it was much fun. For several days I would recommend to check the car well and make sure it is in a good enough shape. In this case, we were ripped off as the price was too high for the quality we got. I checked some reviews now and found some really bad ones about CP Rentals and potential scams. So you might want to be careful, but for us it was alright. I heard that Rentadora ISIS is a better choice as car rental provider.
If you arrive with a cruise ship, there are 3 piers you might dock at:
Punta Langosta pier: located directly in Cozumels main town San Miguel
TMM International pier: located approx. 4 km/2,5 miles from San Miguel or a 7 min taxi ride
Puerta Maya pier: located approx. 8km/5 miles from San Miguel or a 8 min taxi ride (just south of the international pier)
Maya Ruins San Gervasio
Our first stop were the maya ruins of San Gervasio. Certainly San Gervasio should not be compared to other Yucatan ruins like Chichén Itzá or Uxmal. It is a rather small site, but worthwhile nevertheless. And maybe this just makes out the special atmosphere. There were just a couple of other people at the site and the atmosphere was much nicer than at the larger sites, usually full of tourists. So don't go there if you expect a large site with a lot of intact buildings. But to get a feeling of the mayan culture and have a walk through the jungle, it is perfect.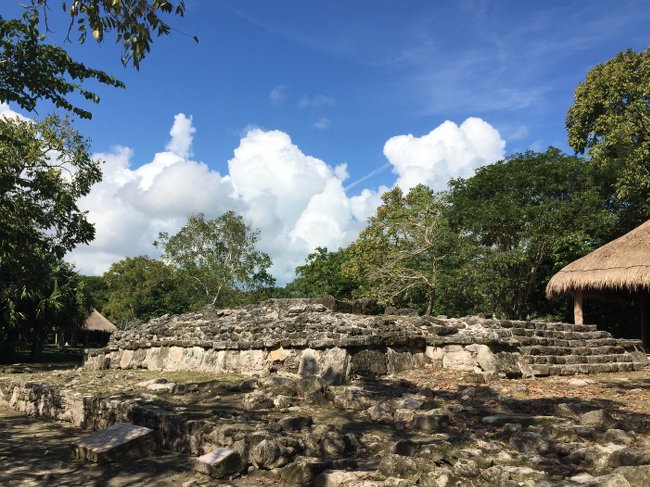 San Gervasio is dedicated to Ix Chel, the goddess of the moon, childbirth, fertility, medicine and weaving. The different ruin structures mostly lack their roof, but the site altogether is in a good shape and worth visiting. Due to heavy rains one structure at the far end was closed down and in the jungle it got a bit muddy where the sun hadn't dried everything yet. But other than that it was a relaxed walk and you can go around in a circle to the different structures such as the altar on the central plaza, the small and the big houses as well as the columns, the arch and the bats compound.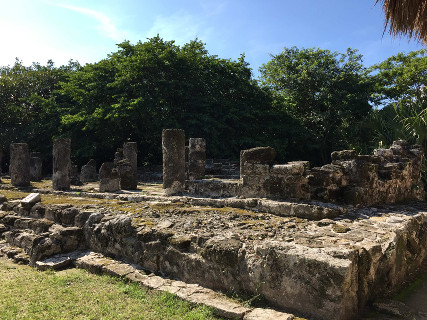 Beaches
All around the island you can find several beaches where you can stop and relax. We stopped at Playa Chen Rio where there is also a small restaurant. I cannot say anything about the quality of the food as we just had some nachos with guacamole which were good. This was around 100 pesos. So this might not be the place to have a large lunch or dinner, but to snack, snorkel, go swimming and enjoy the view, it's a great spot.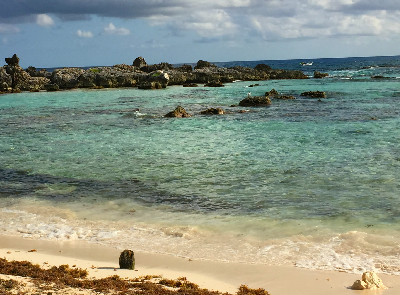 On the south end of the island (the punta sur) you can stop at the Reggae Bar to have some drinks and chill or go straight on to the Punta Sur Eco Beach Park. The park is open from 9am – 4pm. A little further on the west coast of Isla Cozumel you can find different beaches and beach clubs. If you are looking for a not so crowded and more private option then you might want to check out the Nachi Cocom Beach Club. The club is located approx. 16 km from San Miguel. On the way back into San Miguel you find a gas station on your right hand side to fill up your scooter or car before you return it.
Ferry for the route Playa del Carmen – Cozumel – Playa del Carmen:

UltraMar ferry: 163 pesos per person per way or 326 pesos both ways
Mexico Waterjets ferry: 162 Pesos per person per way
If you buy just one way ticket first, you are more flexible on the way back!

Cruise ship piers on Isla Cozumel:

Punta Langosta pier: located directly in Cozumels main town San Miguel
TMM International pier: located approx. 4 km/2.5 miles from San Miguel or a 7 min taxi ride
Puerta Maya pier: located approx. 8km/5 miles from San Miguel or a 8 min taxi ride (just south of the international pier)

Taxi: cost about US $ 5 for short rides or about US $ 5 – 10 from San Miguel/ the piers to the beaches on the west coast
Rent a car: Rentadora starting at US $ 30 + gas (approx. 80-100 pesos for driving the route: San Miguel – San Gerasivo – Punta Sur – San Miguel); VW Beetle at CP Rentals cost 630 pesos (be careful, see above)
Beach clubs at the west coast of the island charge entrance fees (e.g. Nachi Cocom Beach club US $ 55 for a package incl. drinks)
Maya ruins of San Gervasio: entrance fee approx. 70 pesos or US $ 5
Punta Sur Eco Beach Park: entrance fee is 220 pesos/US $ 14
Trip to Isla Cozumel: it is a tip to rent a car or a scooter if you want to see more than one spot on Isla Cozumel. Going back and forth from Playa del Carmen via ferry is easy and convenient.
I hope I could give you a little more orientation than I had when getting there. So enjoy your time and let me know in the comments or on facebook if you have any other tips or experiences about Isla Cozumel. Enjoy the island!