Are you planning to go to Yucatan and are wondering which island to pick either for a day trip or longer?
I have written a post about another island in Yucatan – Isla Cozumel, which you can check out here. This time I want to give you some information about Isla Mujeres (the island of women).
If you are flying to Cancun, I can highly recommend to skip the city and go directly to Isla Mujeres, an island about 12 km northeast of Cancun. Or spend the night somewhere in Cancun and go on the next morning. Go to Isla Mujeres if you are looking for a laid back place which is not artificial, still a bit touristy with plenty of restaurants and souvenir shops, but with a beautiful beach and some possibilities to get active.
Isla Mujeres – How to get there

You can reach Isla Mujeres fairly easy when you catch a bus from the airport to the centre of Cancun (e.g. with the bus ADO to Cancun Centro). From there you can take a taxi to the harbor (Gran Puerto/Puerto Juarez). For price information see below. The ferry takes you in approximately 30 minutes to Isla Mujeres.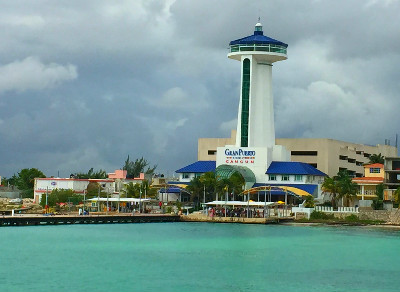 Arriving on Isla Mujeres

Our trip around Yucatan started like I had imagined it. Just spending a couple of days at the sea and the beach, relaxing without having to go anywhere or do anything specific. And enjoying Mexicos tremendous food of course. But more about the food later.
The island has a good size (8km long and about 1km wide). You can get to know it well by bike or golf cart or even on foot. Especially the golf carts you will see a lot on the island. But of course you can also get around by taxi, rental car or scooter.
The sunrises were phenomenal on the island. Even I managed to get up in the morning to witness a view like this:
Beaches
A special place and real highlight of Isla Mujeres is the beach on the north of the island (Playa Norte). The beach is crystal clear with a nice Caribbean air. When you come to the beach from the calles Guerrero or Hidalgo there are a couple of larger hotels, but if you go further down to the east, the beach is not as crowded and the locals mix with some tourists.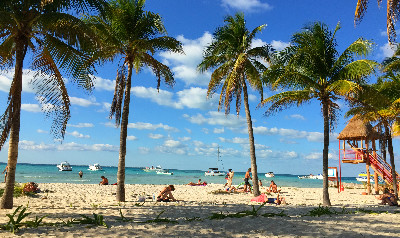 Activities
On a tour around the island you can drive for example to the Punta sur (the most southern point of the island). Here you have a great view of the sea and the "Cliff of the Dawn", which is the easternmost point of Mexico. You cross the sculptures park and then get to the mayan temple of the goddess Ixchel.
If you want to snorkel, you can then head on along the west coast to the close Garrafon de Castilla or to the much more expensive Garrafon Natural Reef Park.
Further up the coast of Isla Mujeres you can visit a turtle farm (Tortugranja), the dolphin discovery or make a stop at the beach (Playa Paraiso). If you have enough time, make a trip to Isla Contoy. This island about 15 miles north of Isla Mujeres is a national wildlife reserve. Since only a limited number of visitors are allowed each day, make sure to reserve beforehand.
Taxi prices on Isla Mujeres:
Food
On Isla Mujeres you can find plenty of restaurants to choose from. Most of the restaurants are located on calle Guerrero, where you will find Mexican, Cuban, Argentinian, Italian…restaurants. Meals cost approx. € 5 – € 20 per person.
If you want to try a more fancy restaurant for dinner, check out the Limon.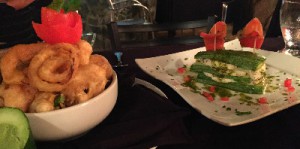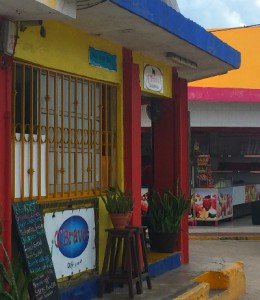 If you stay in the northern part of the island, I can highly recommend Q'Bravo! for breakfast (lunch or dinner)! You pay about 4-6 € for a very good breakfast with coffee, orange juice, French Toast or eggs with toast. Yummy!
The owner is Italian and really friendly as well as the Mexican staff who do their best every day. The place has only 4 or 5 tables, but is usually filling fast in the morning.
From our hotel it was just a 2 min. walk. We had stumbled upon it on our first evening and also had dinner there. Great value for money.
So, what do you think of Isla Mujeres? Let me know in the comments below.
To get more updates like this, add me on facebook