A weekend in Vienna
Vienna surprised me. I had heard that it was supposed to be worth to spend a long weekend in Austrias capital, but I didn't expect this! Great city with good food, excellent wine and a lot of cafés. A city that can actually be walked on foot very well. And two (!) visits to  "Schloss Schönbrunn" rounded up my first trip to Vienna. So if you are wondering what to do on a (long) weekend in Vienna, read on.
How to get there
A flight will take you to Vienna International Airport, which is located outside of Vienna. In order to get to the city centre, you can either take the bus or the train. Actually, you can choose from two trains: either the City Airport Train (CAT) which takes approx. 16 min. or the S-Bahn (S7  from the airport in the direction of Floridsdorf) which takes approx. 25 min. Buses take from 15 to 45 min. to Vienna centre depending on the company and route. Vienna Airport Lines charge €8 for the single trip.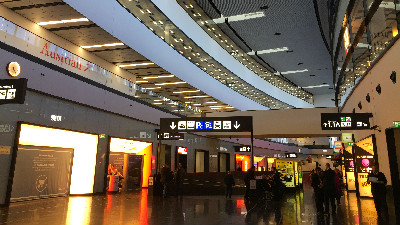 By train you will probably arrive either at Wien Westbahnhof, Wien Meidling or Wien Hauptbahnhof (main station). The bus companies run mostly to Wien Westbahnhof or Wien Stadion Center (Busbahnhof). For more information, see below.
Vienna's Flair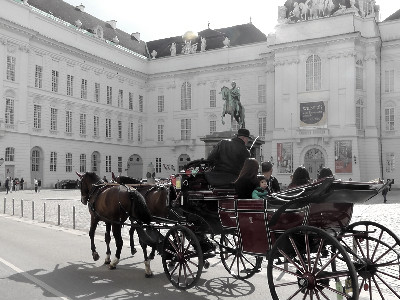 What is it that makes up Vienna?
For me it was a mixture of Princess Sissi, Austrian emperors, horse-drawn carriages, old buildings such as the Hofburg, Schloss Schönbrunn, the town hall, the museums quarter and many other places in Vienna.
For the food & drinks section the Heurigen (wine taverns), stylish old cafés, Schnitzel restaurants, or the sausage booths represent Vienna. Last but not least the famous big ferris wheel at the Prater with another great view over the city makes it easy to get drawn into Viennas charme.
Vienna Day 1
Hundertwasserhaus & Kunst Haus Wien
On the first day, start out with a walk around the city of Vienna.
A good starting point a little bit outside the centre, but closeby in walking distance is the Hundertwasserhaus. You can find the house designed by the artist Friedensreich Hundertwasser and the architect Josef Krawina at Kegelgasse 36.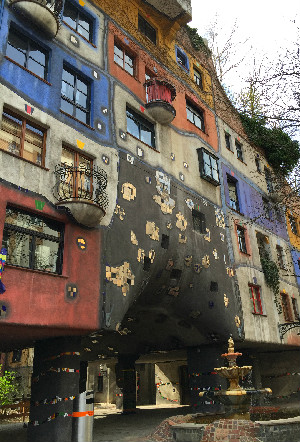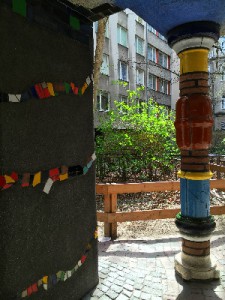 Take some pictures and a walk around and if you are interested in modern art you may want to also visit the Kunst Haus Wien (Art House Vienna) a couple of blocks away at Untere Weißgerberstr. 13.
Stephansdom & Peterskirche
Now start your walking tour at the centre of the old town and district 1 (Innere Stadt) and the famous Stephansdom (St. Stephen's Cathedral). You can participate in guided tours,  climb the south tower (137m high) or just have a look inside the dome. Take some time to go around it as well. A very impressive building.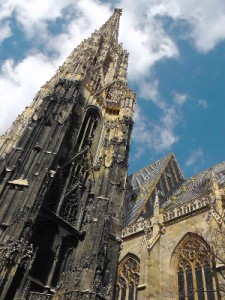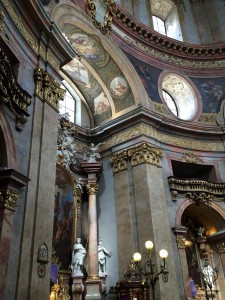 In the neighbourhood of the dome you also find Peter's Church. I stumbled on it coincidentally and would have liked to go back there for a concert, which unfortunately didn't work out. But have a look inside for sure.
Time Travel, Hofburg & Co.
Time Travel is a history show about Vienna. It is pretty neat and especially nice for families, although the price is pretty steep, too. So definitely go for an online ticket for which you get 20% off. I didn't get one in advance, because I didn't want to plan the whole day around a specific time. But when I got there I asked to get the online discount at the counter. Otherwise I would probably have come back the next day (nor not at all).
They let me in for the reduced price, because there was just one spot left for the next available show. More information on Time Travel you can find here.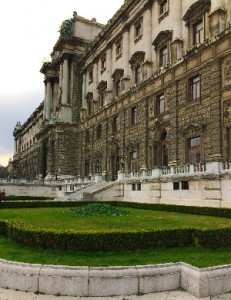 Now, in the right mood and equipped with some basic historic knowledge about Vienna, walk to the Spanish Horse Riding School's stables and from there to the Hofburg palace. This was during the Austrian-Hungarian Empire the principal imperial winter residence.
Closeby you find other related buildings such as the Austrian National Library (Österreichische Nationalbibliothek), which hosts several collections and museums or the museum's quarter at Ringstraße which hosts the Museum of Natural History (Naturhistorisches Museum) and the Museum of Art History (Kunsthistorisches Museum).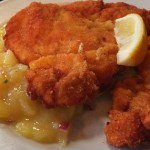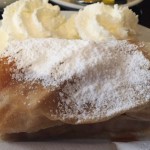 If you now want to have dinner and are up to authentic Viennese food, try the restaurant Figlmüller and their famous Wiener Schnitzel. Since I was there during Easter, the city was crowded and I did not get in without a reservation.
Thus, I turned to Café Alt Wien just around the corner, which is frequented by tourists as well as locals. It has an artsy and alternative flair and is great to have coffee,  Apple Strudel (Apfelstrudel) as well as Schnitzel, beer or wine.
Vienna Day 2
Palace Schönbrunn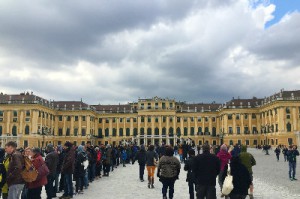 On the second and third day I visited Palace Schönbrunn (Schloss Schönbrunn). Since I was there on a holiday on the first day, the palace was full of people waiting in long queues to get a glimpse of the inside of the world heritage site.
After it became clear that it would not be possible to visit the Palace until mid-afternoon I decided to walk through the huge park of the Palace and got myself an online ticket for the next day.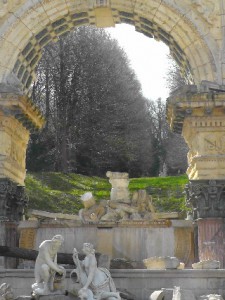 But of course you can fit in a visit to Palace Schönbrunn in one day.
Even better you can take your time strolling through the park, make the Grand Tour inside Schönbrunn and still have time left to visit the zoo which is located east of the park.
First I considered to enter the maze and the labyrinth (5€ admission fee), but then decided to go just for the park and the walk up to the Neptune Fountain and the Gloriette.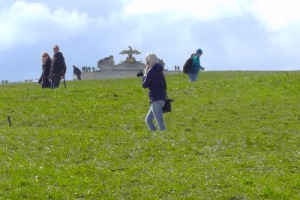 At the Gloriette you cannot only have a cup of coffee or a snack. You also have a tremendous view over Vienna. You can also go up a tower of the Gloriette to a viewing plattform (€3,50 admissions fee).
If you want to see all the attractions including the Grand Tour of the palace, the Gloriette, the maze, the crown prince and the orangery gardens you should consider getting the Classic Pass (21€).
If you have some time left, go back to the city centre and walk for example around the area of Vienna'a famous Opera (Wiener Staatsoper). Close to here is for example the Hotel Sacher, where you can stop for coffee and cake or right in front of the Museum Albertina at Albertinaplatz you find a Wurstl booth. This one is supposed to be one of the best sausage booths in town. I heard that you can even get champagne there!
Now another famous sight is left. The Prater! The amusement park and home of the historic Ferris Wheel (Riesenrad) can be reached by subway (U-Bahn U1/S-Bahn S7 Praterstern). A ride in the Riesenrad gives you a great view over the city.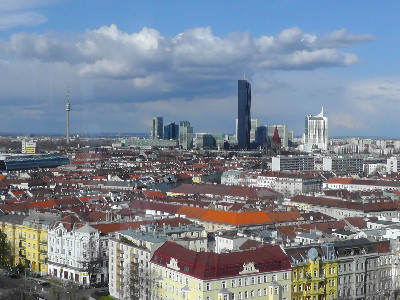 Vienna Plus

Here I have listed a couple of tips that you can fit into any day in Vienna (apart from the first one which opens only on Saturdays):
An absolute must do if you are here on a Saturday: the Naschmarkt (nibble market)! On one side of the subway station U-Bahn Kettenbrückengasse you can find a flea/antique market. And on the other side you will find the Naschmarkt with smalls stalls or cafés with deli food, very good Falafel and all sorts of spices, fruits, nuts, cheese or a lot more you crave for.

To get an overview of the city you can use the tram lines 1 and 2 that go partly around the city centre.
25 Hours Hotel: visit the bar on the rooftop terrace for a great view over the city and some cocktails
Consider doing a short hike (approx. 3km) to Josefinenhütte in the mountains at the outskirts of Vienna (Josefsdorf 47, 1190 Wien). The hut is located inbetween Kahlenberg and Leopoldsberg and provides food & drinks and is great to get outside of the city for a while. You can reach it with bus no. 38A (bus station Elisabethwiese) from the subway station U4 Heiligenstadt. Alternatively you can drive there via "Höhenstraße" from Vienna as well as from Klosterneuburg. Parking lots are available closeby
Café Carina: Great location for live concerts. Local bands play here as well as some international artists. Music style varies from Alternative/Indie, Pop/Rock, Blues, Metal, Punkt or Jazz. (U-Bahn: Josefstädterstraße)
make a short stop at the main library (Hauptbücherei). From this building you have a great view over the city. (U-Bahn U6 Burggasse)
Opera & musical: at the Vienna Tourist Office (close to the National Opera (Staatsoper), Albertinaplatz/Maysedergasse) you can get from 2-5pm tickets 50% off for same day shows. If you don't mind to stand, you can even get tickets for a couple of euros only for the National Opera (Staatsoper) or Burgtheater (theatre). These tickets you get one hour before the start of the shows.
Movies: of course you will find several movie theatres in Vienna. I actually went to an international cinema and watched a movie in original at Arts International (Schultergasse 5).
Vienna Cafés & Restaurants
A definite must-do in Vienna is to sit in one of the cafe's and enjoy a good coffee or tea and a cake, strudel or one of the other delicious sweet dishes. I especially enjoyed the stay at Café Central (not just because of the yummy cake), but also due to the great historic flair. If you are there on a busy day and have to wait in a queue, do that. They have plenty of seats inside and a good system to get as many people seated as fast as possible. And it's worth the wait!
Here a list of cafés, restaurants and wine taverns that you might wanna give a try:
Cafés:

Café Central (Corner of Herrengasse/Strauchgasse, 1010 Wien, U-Bahn U1/U3 to Stephansplatz)
Café Alt Wien (Bäckerstraße 9, 1010 Wien, U-Bahn U1/U3 to Stephansplatz)
Café Sacher Wien (at Hotel Sacher, Philharmonikerstr. 4, 1010 Wien, trams 2, 62, 71 or D to Wien Oper (Kärntner Ring))
Café Palmenhaus (Burggarten 1, 1010 Wien, U-Bahn U1 to Karlsplatz or Stephansplatz, U2 to Museumsquartier, Volkstheater or Karlsplatz, U3 to Stephansplatz, Volkstheater or Herrengasse, U4 to Karlsplatz; trams 1, 2, 71 or D to Burgring, bus 2a to Albertinaplatz or 57a to Burgring

Heuriger (wine tavern): there are several Heurige in and around Vienna:

Heuriger Wieninger: excellent (bio)food, wine & historic ambience, selection of vegetarian dishes (Stammersdorfer Str. 78, 1210 Wien; tram 31 to Stammersdorf + 10 min on foot, bus 30a to Stammersdorf/Freiheitsplatz + 2 min on foot or regional train to Freiheitsplatz + 2 min on foot)
Heuriger Edelmoser: winegrowing since 1629, garden and seating for up to 250 people (Maurer Lange Gasse 123, 1230 Wien, bus 60a to Kaserngasse, tram 60/night bus N61 to Maurer-Lange-Gasse)
Heuriger Schübel-Auer (traditional food and buffet, also gluten- or lactose-free, vegan or vegetarian dishes, garden with seating up to 350 people (Kahlenberger Straße 22, 1190 Wien, U2 to Schottentor, tram D to Beethovengang)

Restaurant Figlmüller: Vienna's famous Schnitzel restaurant (Wollzeile 5 and Bäckerstraße 6, 1010 Wien, U1/U3 Stephansplatz)
Henry restaurants: great for lunch, healthy/Bio food (e.g. Neuer Markt 17, 1010 Wien, U1/U3 Stephansplatz)
Buses to Vienna: you can compare routes and prices from several companies, such as:

Eurolines (https://www.eurolines.at/en)
Flixbus (https://www.flixbus.com/bus-routes#/map)
Meinfernbus (http://meinfernbus.de/en).
Taking the bus for long distance travel in Europe is usually cheeper than taking the train. Although there might be specials or budget offers on the train as well (e.g. Eurail or country specific sales).

Transport from/to airport:

City Airport Train (CAT) – city centre: single 12€, return 19€
S-Bahn train from Vienna International Airport – city centre (e.g. Landstraße (Bhf. Wien Mitte)): single €4,40
Bus (Vienna Aiport Lines) to Vienna city centre (Landstraße (Bhf. Wien Mitte)): single €8

Public Transport in Vienna:

S-Bahn (local train) / U-Bahn (subway) from Vienna's public transport system (wienerlinien.at): 24 hours ticket: €7,60, 48 hours ticket: €13,30 or 72 hours ticket (€16,50)
Wien-Karte (Vienna card): With the Vienna card you get discounts at museums, different sights, theatres or restaurants. It also includes free travel on Vienna's public transport system for 48 / 72 hours (€18.90 / €21.90).
Tram: there is one tram which goes around the city centre in a circle (extra cost). But you can just as well take the trams no. 1 and 2 to go around the city centres in two half circles (included in public transport system ticket or Vienna card).

Hundertwasserhaus: Kegelgasse 36, Wien; subway Wien-Mitte Landstraße or tram 1 stop Hetzgasse
Kunst Haus Wien: Untere Weißgerberstr. 13, open daily 10 am – 7 pm; subway U1 or U4, get off at Schwedenplatz, go on with tram 1 (direction "Prater Hauptallee") to Radetzkyplatz
OR: U3 or U4, get off Wien Mitte, go on with tram O (direction "Praterstern") to Radetzkyplatz
South tower of the Stephansdom: subway Stephansdom, entry fee €4,50, open Mo-So 9am – 5:30pm
Have you already been to Vienna? What did you see and like best? I would like to go there again soon. Let me know what you think of the city in the comments below. If you liked the article and want to be notified about new posts, follow me on facebook or twitter.